Waitangi Tribunal Hearing Week 8, 17-20 September 2018, Rata Marae Te Houhou Rd, Rata – Hunterville
Nau Mai Haere Mai Nga Whanau o Mōkai Pātea
A milestone week for Waitangi Tribunal Hearings WAI: 2180 Taihape: Rangitikei ki Rangipo District Inquiry. The first hearing started in 2016. Week 8 is now underway and will finish on Thursday afternoon followed be Hakari at 1.30pm.  Hosted by Ngati Hauiti on behalf of the Mōkai Pātea Waitangi Claims Trust, established by the four iwi of Mōkai Pātea, Ngāi Te Ohuake, Ngāti Hauiti, Ngāti Whitikaupeka, and Ngāti Tamakōpiri to collectively settle the four iwi's claims against the Crown for breaches of Te Tiriti o Waitangi in the Mōkai Pātea rohe.
Find out more about Mōkai Pātea Waitangi Claims Trust here:https://mokaipateaclaims.maori.nz/about/
Why is it a milestone?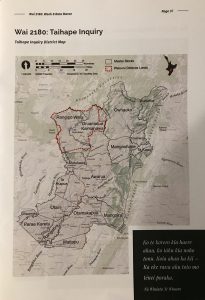 This is the last week where Tangata Whenua evidence is presented.  
Mōkai Pātea Waitangi Claims Trust (the collective four iwi) final Tangata Whenua evidence was presented on Monday.
Tuesday saw the Technical evidence presented by David Armstrong on Environmental Change in the Inquiry District (1890 – 1970).
Wednesday David Alexander will present Technical evidence on Environmental issues from 1970 to now.
Further evidence and witnesses will be presented from Ngāti Kauwhata, Ngāti Wehiwehi, Ngāti Kauwhata ki te Tonga, Ngāti Hinemanu Ngati Paki, and Horowhenua from late Wednesday and Thursday morning/early afternoon.
If you can not make any of the remaining sessions this week …
At least come on Thursday for the final session from 10.50am and stay for the Hakari at 1.30pm.  To show your support and acknowledgment of the contribution of all Mōkai Pātea Tangata, who have taken the difficult and important step of providing evidence to the tribunal. It is not an easy thing to do and we are sincerely grateful for their efforts.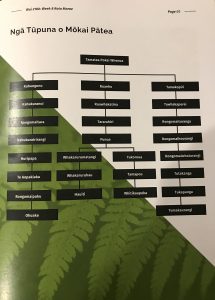 We appreciate it is not easy to take time off mahi (work) to support this process.  Five hearings in one Calendar Year is a lot of leave! If you can spare a half day or a day our people will appreciate it and so will your Tupuna.
Where is Hearing Week 8?
Rata Marae, Te Houhou Road, south of Hunterville, North of Marton Turn off. Click here to see event information and map: https://mokaipateaclaims.maori.nz/event/wai-2180-taihape-inquiry-waitangi-tribunal-substantive-hearings-week-8/
Next Stages of the Waitangi Tribunal Process

Week 9 (10-15 December 2018 at Waiouru): The Crown will respond to the evidence presented to date
Week 10 ( 18-22 March 2019 venue to be determined): Closing submissions by all claimants
Week 11 (13-17 May 2019 venue to be determined):  Crown Closing
There is still the Landlocked Lands hearing where a date is yet to be determined
And the Kawekas and Gwavas matter which is not part of this Inquiry district, but will determine whether Ngati Hinemanu me Ngati Paki have a claim to that area under the Heretaunga Settlement. (Date yet to be determined)
Mauri ora!